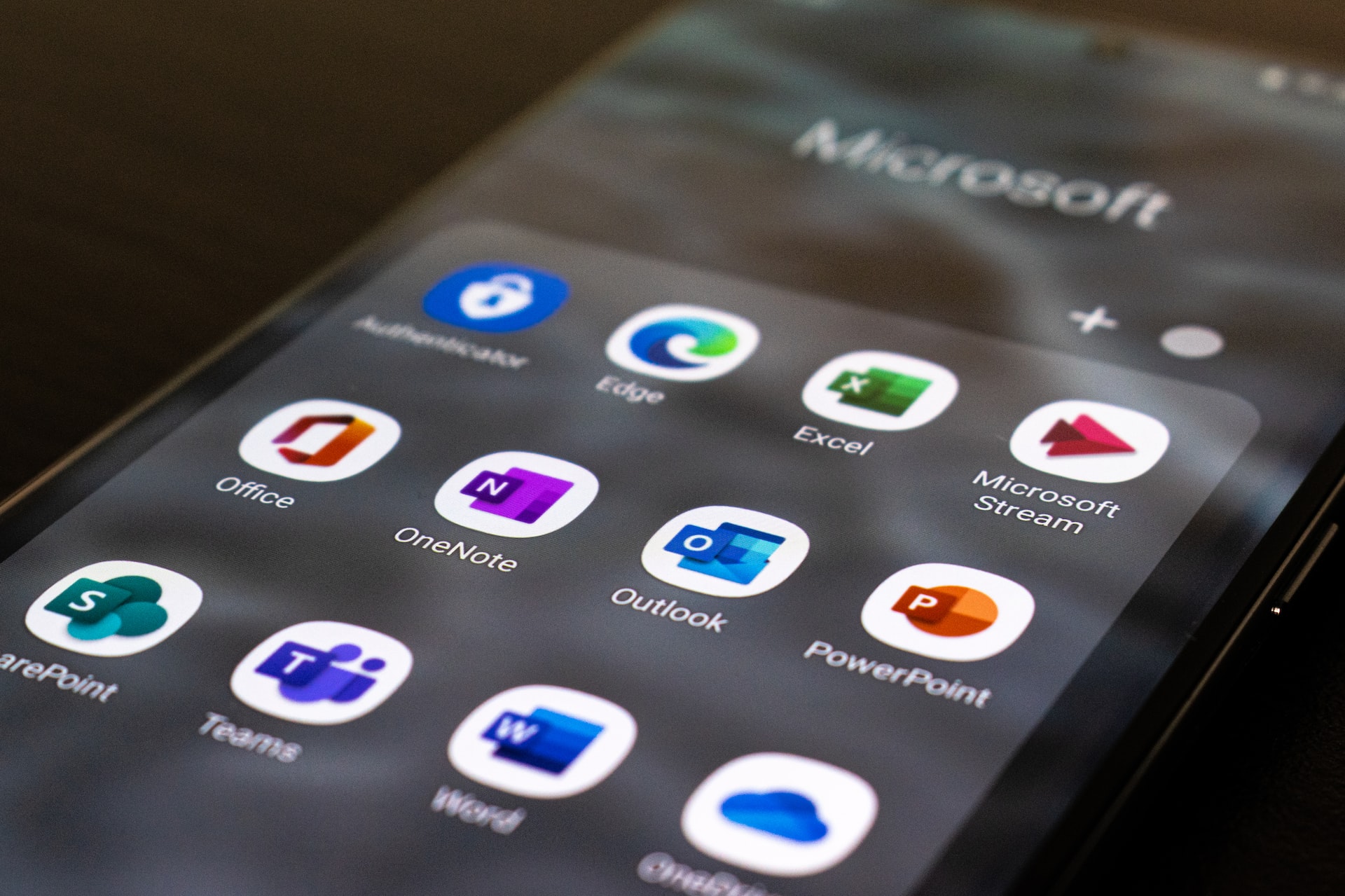 It's a fact: staff are happier when they can do their jobs more efficiently. And you're happier when your staff are more productive.
Microsoft 365's range of productivity tools and features can help you and your teams to work smarter, reduce distractions and work more effectively across the business.
Let's take a look at some of the most effective productivity tools within the Microsoft 365 suite.
1. Co-authoring and file collaboration
How many times have you seen an important file being copied, saved elsewhere, sent as an email attachment and going through several name changes (v1, v2, v3, v3 - final, etc.)?
For many people, working on a single document has long been a pain, and that's not the only annoyance. Working this way can lead to:
People overwriting each others' work
Files going missing or being lost as nobody knows which is the correct version
Wasted time emailing different file versions and aligning updates to a document
With Microsoft 365, this can become a distant bad memory. Sharepoint and OneDrive - apps within the Microsoft 365 suite - provide users with a much easier way to collaborate on joint projects.
As well as being able to access files from anywhere and across devices (ideal for remote workers), these shared drives also enable co-authoring, meaning several people can work on one document at a time without overwriting each others' work.
You can also invite collaborators by sharing a link to a document, which is much more secure than sharing attachments via email.
2. Focused Inbox
Did you know that email is one of the biggest distractions in the workplace? According to McKinsey, employees spend as much as 28% of their time on emails.
You've no doubt experienced it yourself. You open your email inbox and flick through the contents, even if it's not particularly important. Before you know it, an hour has passed in the blink of an eye - an hour of the working day you can't get back.
To combat this level of distraction, Microsoft 365 Outlook has a neat feature called Focused Inbox. This essentially splits a user's email inbox into two folders; focused, and other.
When activated, your most important emails will appear in the focused inbox, while less important messages are discreetly placed into the 'other' folder for reading later. This can massively reduce the chances of employees becoming distracted by irrelevant content or unnecessary newsletters when they should be focused on their workloads.
The best thing? It takes seconds to activate:
Select the 'View' menu option
Select the Settings icon at the top of the page.
Toggle the 'Show Focused Inbox' switch on.
It's certainly worth a try to see just how much more productive it can make your teams if they don't have those little distractions throughout the day.
3. Plan schedules and daily tasks
Teams work better when there's a clear plan in place. That doesn't mean micro-managing, but having effective systems that mean everyone knows what they're doing, when it's due and what support is available.
Within Microsoft 365, managers and project leaders can easily delegate tasks to relevant people, create to-do lists and track task progress.
If you're already using a separate productivity app, you can likely integrate it with Microsoft 365 to make it even easier to turn emails into tasks, assign them to the right people and more efficiently delegate work.
For example, Microsoft 365 can connect with the following:
Slack
Asana
Trello
Basecamp
ClickUp
Monday.com
Consider streamlining task management across the business to create efficiencies.
4. Dictation
Another useful productivity tool within the Microsoft 365 suite is the ability to transform speech to text. Voice notes are now commonplace across instant messaging apps, so this feels like a natural progression.
Across the Microsoft apps, you're able to use a microphone to transcribe your speech into written text. To do it, just look for the Dictate microphone icon on any of the main apps (Word, Powerpoint, Excel, Outlook, etc.), and then speak once it's activated.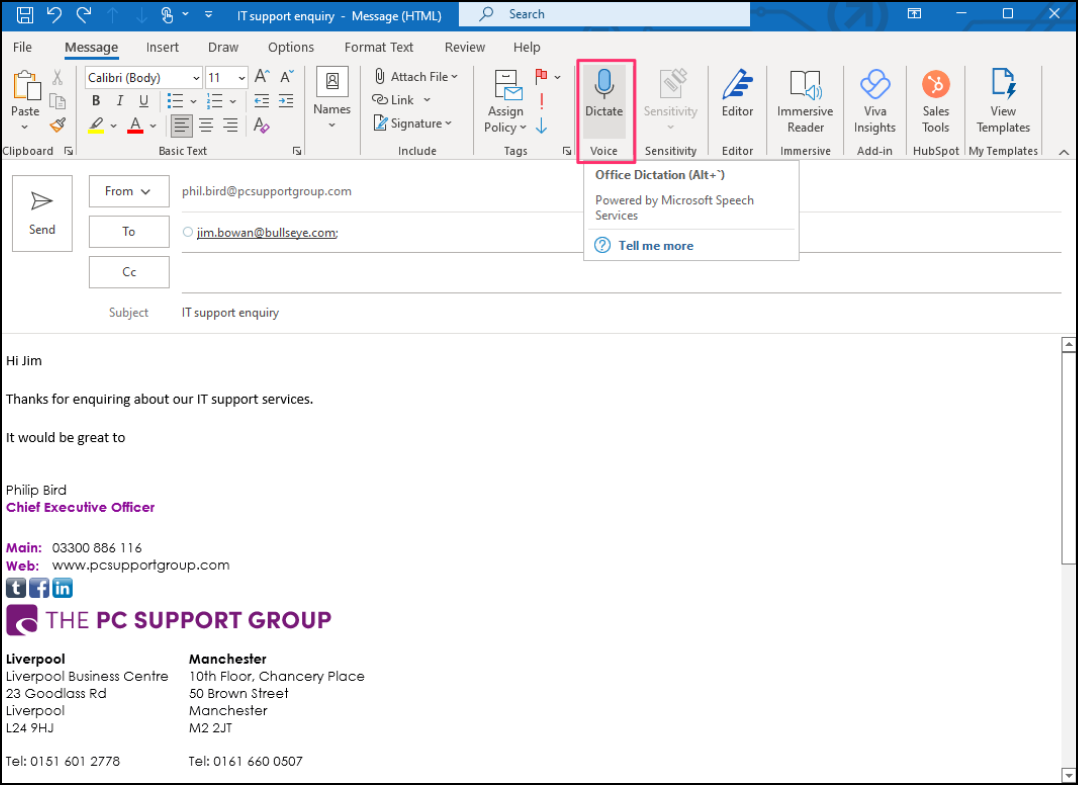 This can help you staff to:
Easily record meeting notes
Create presentation slide commentary
Quickly jot ideas down when on the move
Get words down on a page as and when they pop into their heads
Respond to an email
If you feel you're able to better get your point across via speech, Dictate can be a useful tool in your day to day work.
5. 'Tell Me' feature and Smart Lookup
How many times do you jump from a document to an internet browser tab and soon find yourself down a rabbit hole of interesting (but not necessarily relevant) information? Another time killer.
However, Microsoft 365's built-in Smart Lookup feature allows you to define terms and explore more information from the web without having to leave your Word, Powerpoint or Excel document. To do it, simply highlight the word or phrase, right click, and then choose Search '[your highlighted word/phrase]'.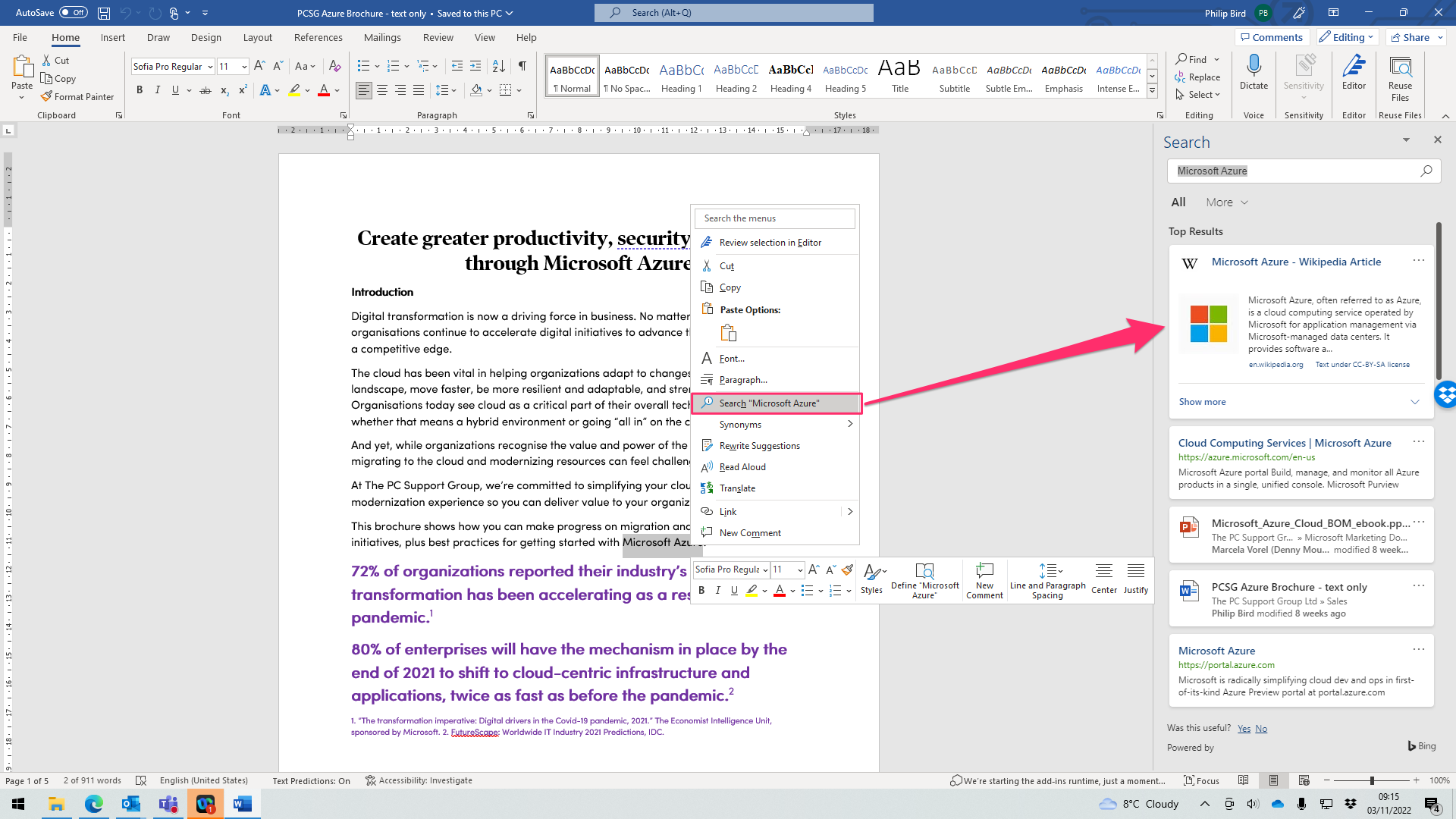 You can also do this from mobile devices and tablets on iOS and Android - simply double tap the word you're interested in, then choose 'Smart Lookup' from the popup menu.
The 'Tell Me' feature is another useful productivity aspect of Microsoft 365. Again, this saves time by preventing the need to jump from a document to find something out or from scrolling through different menus to find the action you want.
Instead, just type into the search bar that says "tell me what you want to do", and you'll be presented with relevant suggested actions.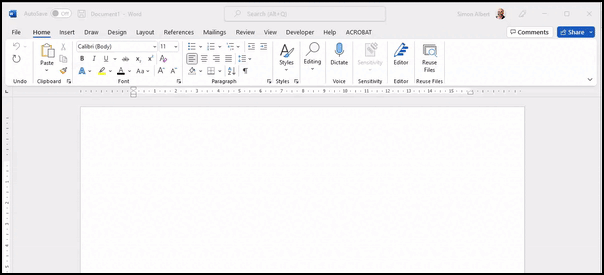 Become more productive with Microsoft 365
Microsoft 365's productivity tools can be a real game changer in your business. Even making small tweaks to the way your teams work - for example by reducing distractions or making it easier for them to collaborate - can massively boost productivity and general staff happiness.
For you, that means a more settled workforce (resulting in less staff turnover) and a healthier looking business that generates more revenue. It can't be bad!
These productivity hacks are really just the tip of the iceberg in terms of how Microsoft 365 can benefit your business. To find out more, download our free guide:
These productivity hacks are really just the tip of the iceberg in terms of how Microsoft 365 can benefit your business. Interested in boosting productivity across your organisation with Microsoft 365 for business? Get in touch with us today on 03300 886 116 or info@pcsupportgroup.com, and our Microsoft experts will be happy to help you.