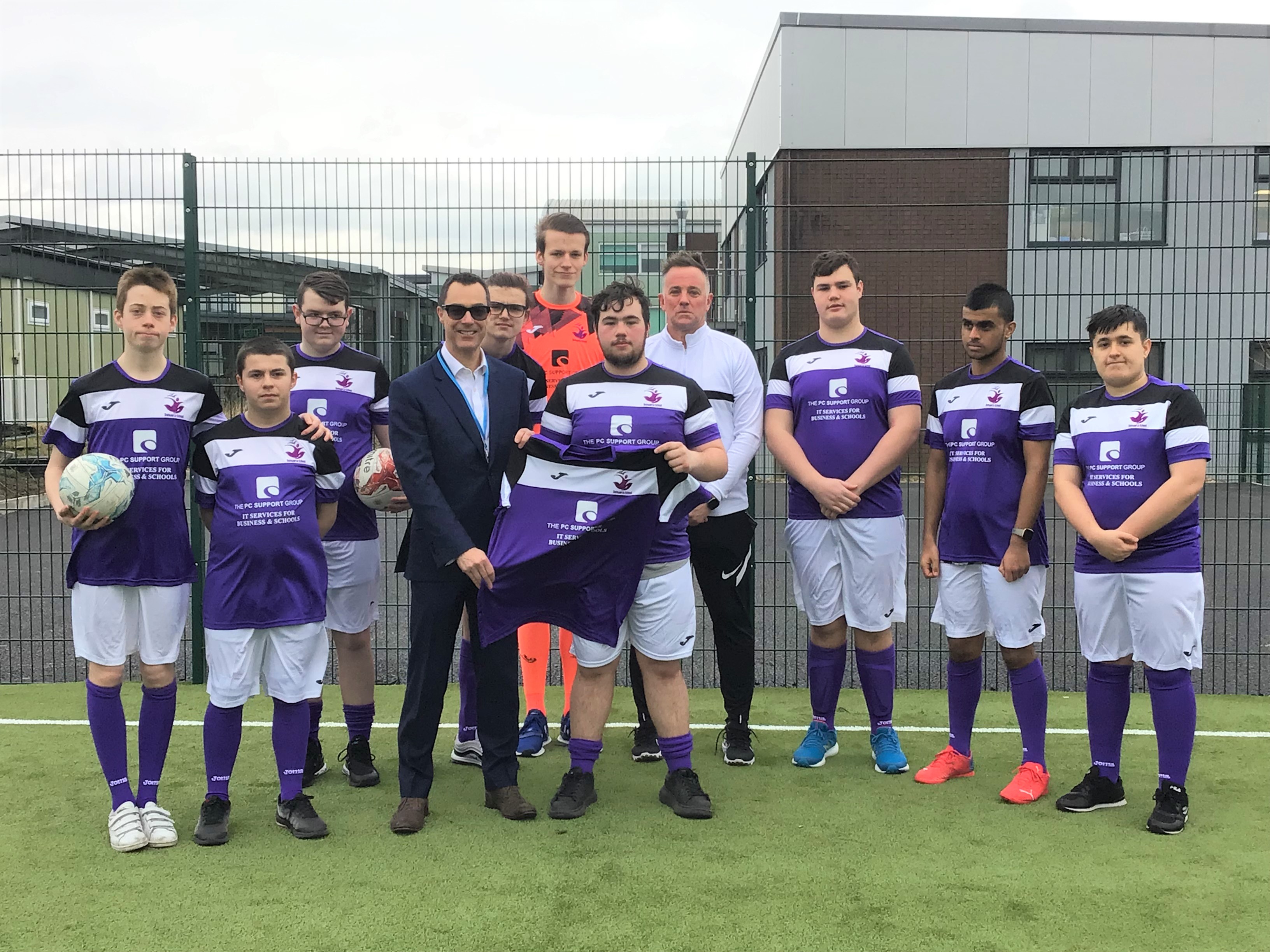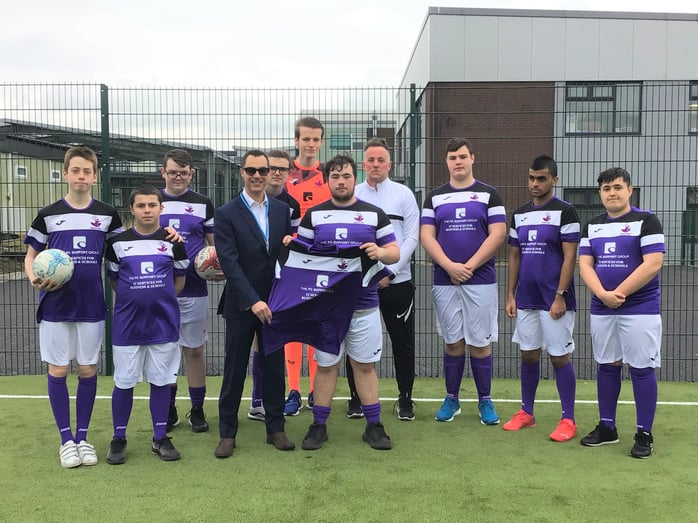 The staff and students at Rumworth School in Bolton are an amazing bunch, and we're proud to provide them with IT support. For us, being able to support them in other ways is pretty special too.
One of the most important aspects of the IT & Telecoms support we provide to our clients is the close relationship with them so that we fully understand their needs and wants, and they trust us to provide the best advice.
In building those relationships we inevitably get involved in more than just providing IT or telecoms support - in fact it's a lovely part of what we do! So, it was music to our ears to hear Gary Johnson, Head Teacher of Rumworth School, say, "We appreciate The PC Support Group supporting the school above and beyond their official IT support capacity and making a group of students very happy." Equally rewarding for Phil Bird, our CEO, was meeting the students at the Special Educational Needs Secondary School near Bolton and hearing what they had to say.
Over the years we've supported many of our charitable and CIC clients with activities such as helping set up a huge Christmas dinner for the homeless, sponsoring fundraising events and participating in sponsored runs, cycle rides or other activities. We were therefore delighted when Simon Mullineux, head of the sports department at Rumworth School, approached us to sponsor their football team's kit.
Simon has worked in SEN Education and Disability sport for over 20 years and firmly believes that taking part in sports has huge benefits to the young people he works with, helping improve their confidence and providing them with a release from the restrains they feel in their everyday life.
Without the right equipment and kit that confidence can easily be eroded. Simon quickly learnt the power of a kit. Students turning up at a football or any sports fixture, in a full matching sports kit, adds so much to the pupil's belief in themselves; they look the part, feel important, and this adds to their confidence. Centre forward, Jude, said, "The design of the kit is really nice. When I wore it, I felt really important and proud. Everyone now knows who we are because everyone recognizes our kit."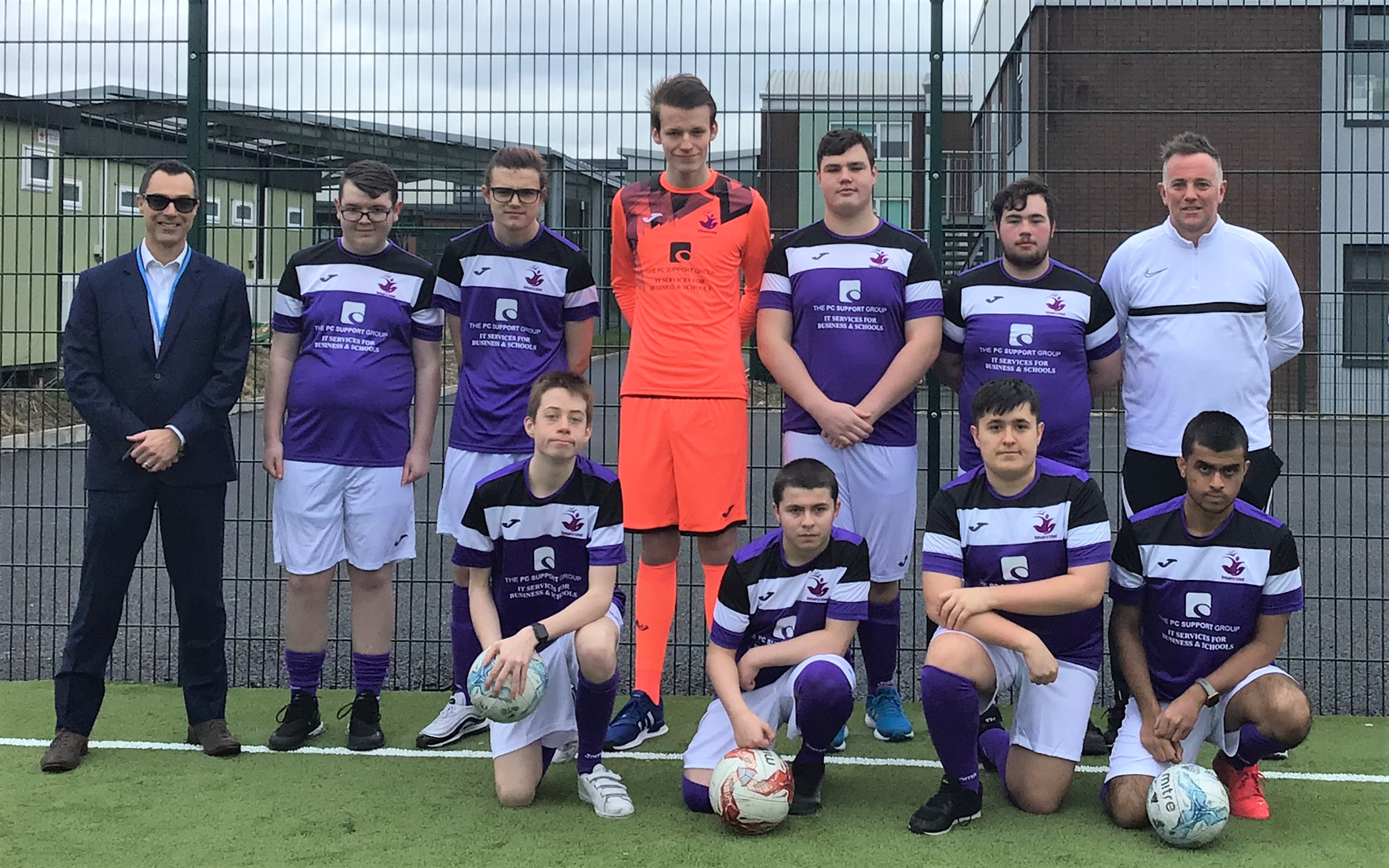 Phil Bird, CEO of The PC Support Group, presents the Rumworth School Football team with their new kit. L-R - Top: Phil Bird, Josh, Leon, Alex Joe, Josh & Simon Mullineux Bottom: Jude, Nathan , Ciaran & Nadin
Simon said "We were delighted when The PC Support Group agreed to provide and sponsor our new football kit. The students love the new kit, its colour, and how it stands out from the crowd. When the kit arrived, five students were asked to try it on. This quickly became a fashion show around the whole school as they were so excited. The reaction from staff and other students was amazing. The lads were buzzing." Leon - centre back – echoed that saying, "The kit is fantastic; it looks like a kit out of the Premier League and that made me play better and gave me more confidence."
By providing a sports program within an SEN School, Rumworth School enables students to gain pride from representing their school in a sports fixture, and they feel important because people ask them about the competition or the match they have played. All of which allows for a growth in confidence and self-esteem within the safe environment of the school.
When our CEO, Phil, met the team to officially hand over the kit, Josh (Captain & Centre Midfield) told Phil, "When the kit arrived and we tried it on, I was really excited and ran around school to show everyone. It was really nice to play in the new kit and it gave me more confidence. All the other teams were looking at us and commenting on how good we looked."
Gary Johnson, Head Teacher, commented, "The opportunity to play football in fixtures has supported the pupils, but the new kit has taken their attitude to both playing and learning to a new level. They know they have to have good behaviour and be up to date with their work to be allowed to play, they are now desperate to play and wear the kit and this is showing in everything they do in school. Pupils who have never been interested in football now want to play, so they get to wear the new kit."
Simon agreed, adding, "Last month the students played their first round of fixtures in their new kit. They noticed how the other teams looked at them, their confidence was sky high, and this showed in how they played."
Phil Bird concluded, "Supporting Rumworth's IT and its brilliant team of staff and pupil's is rewarding as it is. The school is fantastic; there's always such a good energy about the place, but it was especially fulfilling to see the pupil's reactions to wearing the new kit – and better still, to hear how it's impacted on their game. It's great to be able to get involved with our clients outside of our usual IT support remit." Phil went on to add, "It's great to see that The Bolton News have picked up the impact that the kit has had on the students game-play - another reason to celebrate!"
---
The PC Support Group has extensive experience in providing IT support to small and medium sized businesses, including disaster preparedness, data backup and cyber security management. We also like to go the extra mile!
Email us on info@pcsupportgroup.com or call 03300 886 116 to see how we can help you and your business.