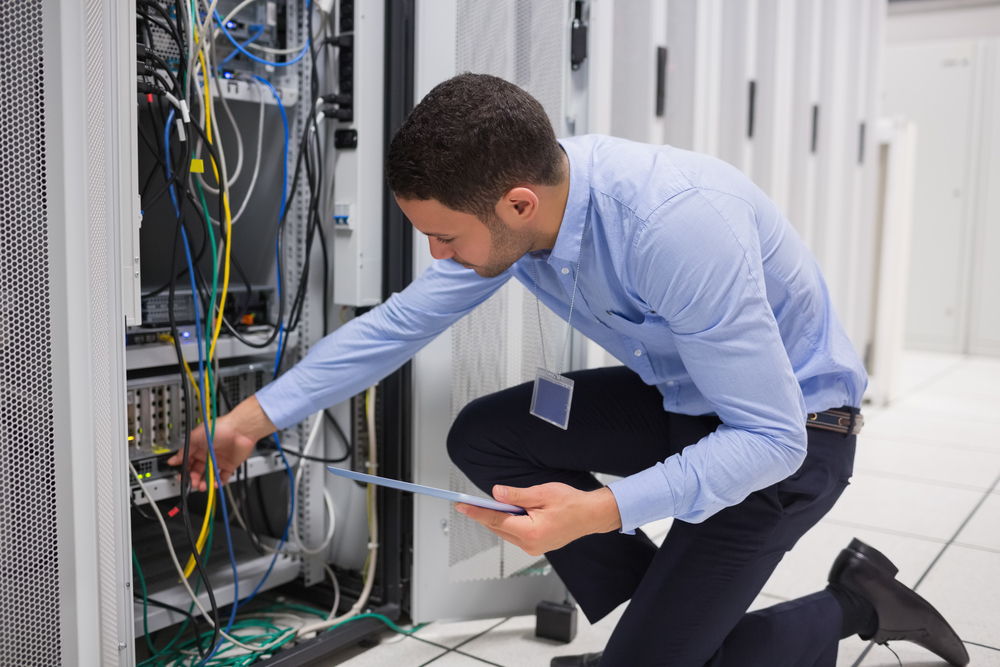 If you're considering having a leased line installed to boost your business' internet connectivity, you may be wondering about potential upheaval.
While there is more to the process than having a standard broadband connection installed, the good news is that for you, the business owner or stakeholder, there's actually very little to worry about.
In this guide, we'll explain the process and show you just how little you need to do throughout.

The leased line installation process
If you've heard of the many benefits of a leased line, such as uncontended bandwidth, reliable service and fast internet speeds, the natural next step is to understand how you can take advantage.
Here's a rundown of the steps involved in having a leased line installed. It's worth remembering, though, that the majority of these steps run in the background without the need for your input or time.
1. Quote and order
The initial phase is to gather a quote from the leased line provider. There are several factors that will determine the costs of the line, such as:
The speed and bandwidth required
The chosen internet service provider (ISP)
The location of your premises
The work and time required for installation
You may choose to get several quotes, but also take the time to understand what you're getting from each potential vendor. Read our guide to the different types of leased line to understand which is best for your business.
If you're renting the premises, consult your landlord in advance to ensure you're able to have installation work done under your contract. And remember, leased lines are for a fixed term so if you're likely to move within that period, check out the ability and costs of moving the line to new premises.
2. Site survey
Before work begins, an engineer will visit the premises to conduct a site survey. This is an essential step as it determines the most efficient and cost-effective way of connecting the line from the network exchange to your premises. This is all about planning and ensuring there's minimal disruption when it comes to the physical installation of the line.
Normally this is mostly a formality but be aware that occasionally the provider may have to overcome issues that will lead to further costs and delays. If they do they will inform you of these and you have the option to proceed or back out.
3. Legal/admin processes (wayleave)
In some cases, there may also be a legal and administrative side to the installation process. If the premises do not have a current line installed, you may need to wait for a wayleave, which is a legal document providing consent for the fibre provider to enter the premises for installation, maintenance and repair.
Once this is complete, the process can move onto installation.
4. Line installation (and associated construction work)
The next step is for the actual line to be installed. The scale of this work depends on the current setup around the premises. If neighbouring buildings already have a line connection, then this can often be used to add a connection to your building. However, in other scenarios, there may be more rigorous construction work required to add a line from the network to your premises. This includes things such as digging new trenches, installing ducting or manholes.
This will all be completely taken care of by professional construction workers who are instructed by the ISP, so it's nothing that you'll need to be involved with or worry about.
5. Testing and termination of the connection
Once the construction work has been completed, the connection then needs to be terminated. At this point, engineers will visit the premises and terminate the connection at your communications point. This may simply be left as a 'wires only' connection where you fit the router to connect to the internet, or your supplier may provide a router which they are able to manage and monitor for a higher level of service.
During this visit, the connection will be tested to ensure everything is working as expected. In rare cases, there may need to be some corrective work done if the test fails. Once the test is passed, the installation is complete.
6. You're connected!
After the installation process is finished, you'll now be able to access high speed, high performance broadband from your work premises. Although the process may sound labour intensive and daunting, remember that there's actually very little for you to do. Aside from answering a few questions about your premises, everything else will be managed by the provider.
How long does it take to install a leased line?
Typically, a leased line installation takes between 30 and 60 days. However, this estimate depends on the amount of work that needs to be carried out as part of that process.
Depending on location and existing infrastructure, it can take many more months to have the line installed, but you will be told after the survey, and you should balance this with the fact that there's very little for you or anyone at your business to do during this process.
Interested in boosting your network connection with a leased line?
If you're looking for high-speed business internet connectivity, a leased line is a great option that offers flexibility and reliability. From start to finish, our team will work with you to ensure you're getting exactly the right leased line for your business. Planning, installation and ongoing support is provided directly by us, so you have a reliable, single point of contact with access to our expert engineers; no phone queues or call centres.
Get in touch today on 03300 886 116 or email info@pcsupportgroup.com.
Need a little more information to help you understand what's best for your business? Download our free checklist: