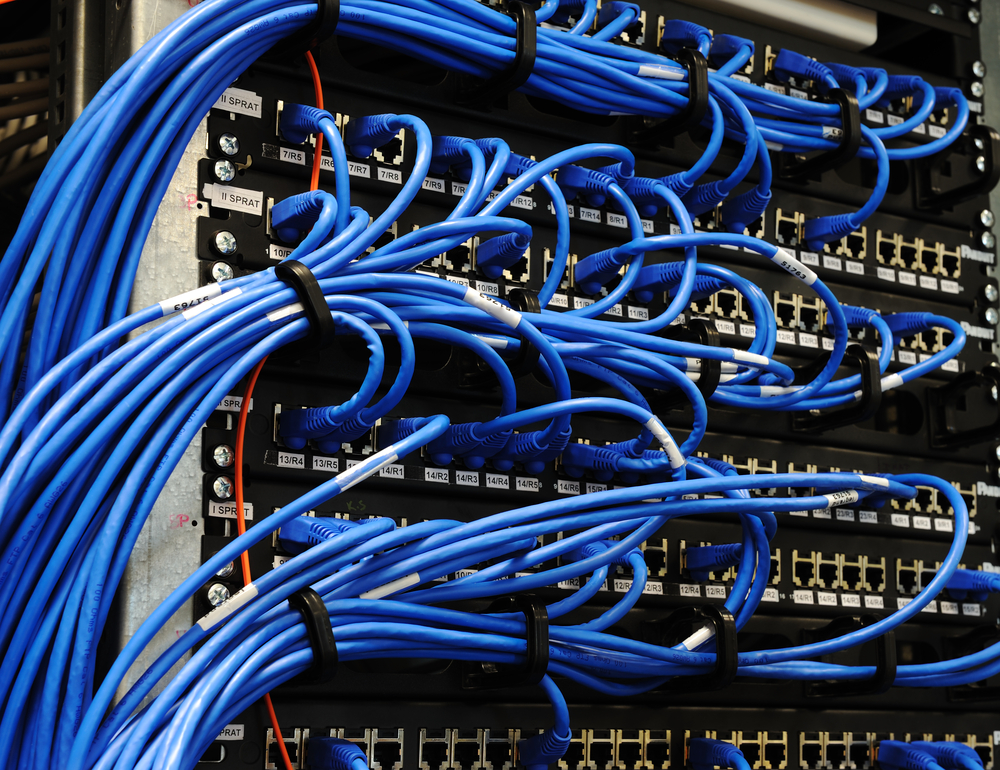 As you may already know, a leased line provides a business with a high-speed internet connection. But just how different is that from a standard broadband connection?
In this article, we'll look at the key differences between broadband and leased lines.

Broadband vs leased lines: what's the difference?
While broadband is the name given to standard internet connections that are delivered by internet service providers (ISPs), a leased line is slightly different in the way the connection is delivered to the hiring premises.
Regular broadband is typically used within both domestic and business settings, whereas a leased line connection is generally more targeted to businesses. The key difference in the setup is that a leased line is exclusive to the hiring business, whereas regular broadband connections share a common line with nearby premises.
This means that there are a number of differences in the actual performance of the connection when compared to standard broadband.
Cost
The first big difference between regular broadband and a dedicated line is the cost. Because of the higher service level and performance, leased lines cost more in terms of monthly payments, typically starting from around £250 per month. However, there's more to consider than just the price — businesses can reap the rewards of a faster and more reliable connection which can improve productivity.
Service level (managed for leased lines)
You've probably spent time on hold or in a frustrating telephone queue trying to reach your broadband provider about a service query. With a leased line connection, the service comes fully managed by the provider, meaning you have direct access to them when you need support.
Available speed
Leased lines can provide much faster internet speeds than a standard broadband offering. A leased line connection can offer speeds of up to 10GB, which is many times faster than you'd receive on a standard internet connection which varies but is usually in the region of 50MB to 80MB download and 10MB to 20MB upload..
Bandwidth
The one major drawback of a typical broadband connection is that it's shared with other surrounding premises, meaning you share the bandwidth with those properties. The more data being transferred by your neighbours, the less bandwidth available for your business, so access to systems can slow down unexpectedly. A leased line, however, is exclusively yours, meaning you won't experience periods of slow speed, even during peak hours.
Upload/download speeds
With a leased line, the internet download and upload speeds are guaranteed to be the same (symmetrical). This means that you're able to rely equally on fast upload and download speeds.
Data usage
Many broadband providers offer contracts with 'unlimited' data downloads, but in reality this is usually subject to fair use policies (which are often hidden in the small print). Leased lines, on the other hand, are not subject to such policies, and therefore mean you can use as much data for downloading and uploading as is necessary.
Latency
Latency refers to the speed at which your connection is able to receive packets of data. Leased lines offer lower latency levels, meaning they can receive the data more quickly than standard broadband connections. This is important for businesses because low latency is required for the smooth running of internet-dependent services like cloud computing platforms, video conferencing and VoIP phone systems.
Scalability
Business needs are constantly changing, so if your team is expanding, or you're becoming more reliant on the internet as a core part of your business, a leased line offers the scalability and flexibility that a standard broadband connection won't. You can simply increase your bandwidth at short notice to cope with increased demand on your network.
Reliability
A leased line is covered by guaranteed upload and download speeds, as well as being provided with a managed service that enables quick and efficient responses in the event of the connection going down. For added peace of mind, diverse routing or failover lines can be hired as part of your contract. Both of these provide secondary connections that can be used in the event of the main line failing, which is not possible with a standard broadband connection.
Why a leased line might be better for your business
As you can see, there are some subtle differences — and some more clear variations — between leased lines and regular broadband internet connections. In many cases, a leased line can offer a range of advantages to businesses, such as:
Faster speeds
Uncontended bandwidth
Less downtime
Better productivity
Easier access to support
These benefits can often contribute towards achieving your overall business goals by allowing staff access to a more stable and reliable network. Consider investing in a leased line if your business:
Has 25 or more employees
Relies on the internet as a critical element of its day to day operations
Requires a safety net if the main connection goes down
Use cloud-based software and services
Interested in boosting your network connection with a leased line?
If you're looking for high-speed business internet connectivity, our affordable and reliable leased lines are the perfect solution. From start to finish, our team will work with you to ensure you're getting exactly the right leased line for your business. Planning, installation and ongoing support is provided directly by us, so you have a reliable, single point of contact with access to our expert engineers; no phone queues or call centres.
Get in touch today on 03300 886 116 or email info@pcsupportgroup.com.
Need a little more information to help you understand what's best for your business? Download our free checklist: